Clark University's 50-acre, tree-filled campus is located in Worcester, Massachusetts, known as "the Heart of New England." Worcester is a midsize city with big-city rhythms and spirit. This is a place of energy, opportunity, and attitude that you'll want to explore, then make your own. The area offers myriad professional opportunities by day, and a thriving arts and culinary scene at night.
To give you a sense of just how amazing our campus and city are, we've compiled this list of Top Ten Reasons to Love Worcester.
Centrally Located — Our location in the center of the state makes us easily accessible from just about any point in New England, including Boston (one hour), Providence (45 minutes), and Portland, Maine (two hours). We're also an easy 3-1/2-hour drive from New York City.
Livability — Confirming what we already know — Worcester is a great place in which to live, to explore, and to eat. Livability.com has named it #53 in its list of the best places to live in the U.S. Neighborhoods feel connected here. Between the parks, green areas and street markets, people living here can actually get to know their community.
Amazing Food — There are so many incredible places to eat in Worcester that cover all ends of the culinary spectrum! The city is full of old-fashioned diners, coffee shops and breakfast joints as well as upscale eateries featuring world class cuisine. Grab a bite to eat at an historic diner or check out some of the newest eateries, such as Deadhorse Hill,on Main Street, or Volturno, on Shrewsbury Street, also known as Restaurant Row.
Sample a Worcester Craft Brew — Worcester is home to tons of great breweries, all creating their own signature draughts! Visit Wormtown Brewery and try the Be Hoppy IPA or Fresh Patch Pumpkin Ale. Pop over to Greater Good Imperial Brewing Company, where you can try the Evana Russian Imperial Stout or one of the other great Passport Series brews. Check out Redemption Rock Brewing Co., which is a taproom and cafe all in one. Or if you're looking for a smaller, more intimate spot, head to Flying Dreams Brewing and try the Fuel America Coffee Stout!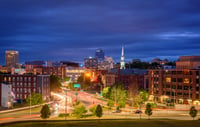 Enjoy the Nightlife — There's no shortage of exciting nightlife to experience in Worcester, including plenty of unique dining options, a number of independent retail shops, concert halls, and music venues, like The Palladium. Get out with friends at Nick's, a German-themed bar featuring live music and an outdoor patio. If you want to play a few games of shuffleboard or giant Connect Four while enjoying a drink, head to The Pint. For great live music, The Raven is the perfect spot with cheap drinks to boot. Like a good cigar? Head over to Michael's Cigar Bar and sit in the relaxing lounge where you can pair a cigar with one of their many beers on tap. For small plates and a large selection of wines, venture over to Bocado Tapas Wine Bar.
Celebrate the Arts — Worcester takes the arts seriously— Forbes.com ranks Worcester No. 9 in the U.S. for culture and leisure activities. The Hanover Theatre for performing arts is just one of the stellar venues for catching a show. It's actually the second-largest center for the arts in Massachusetts where you can catch a touring Broadway show, a local production of a play, or classic ballet performances. And Worcester is home to the newly renovated DCU Center - Arena and Convention Center, Mechanics Hall, and the Worcester Center for Crafts.
Visit Worcester Museums – Be sure to check out some of the city's great museums! Visit the Worcester Historical Museum to learn all about this Massachusetts city's local history. Explore one of the top historic house museums in New England with a tour of the Salisbury Mansion, where you can learn about local gentleman-merchant Stephen Salisbury. Prefer art museums? Check out the Worcester Art Museum to see paintings and sculptures from all around the world, including an exhibition featuring authentic artifacts from the Middle Ages, and masterpieces from El Greco, Monet, Rembrandt, Picasso, Van Gogh, and Gauguin.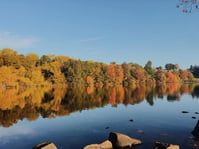 Get Outside — Home to more than 60 parks and picturesque Lake Quinsigamond, Worcester offers plenty of outdoor recreation opportunities, including Mass Audubon's Broad Meadow Brook and historic Elm Park, one of the country's oldest public parks. There are plenty of bike trails in the area, so you can easily reconnect with nature while getting some exercise. And If city life gets you down, you have the dramatic mountains of the Berkshires to the west and lovely lakes to the north. Worcester residents don't need to travel far to escape into nature.
Career Opportunities — Central MA is a technology hub. Great job opportunities are available in areas like healthcare, research, education, manufacturing and technology. Local employers include University of Massachusetts Memorial Health Care, Hanover Insurance Group, Anthem, General Electric, CVS Health, Charter Communications, and Polar Beverages.
Diverse Population — More than 20 percent of Worcester's population comprises immigrants — and the city's diverse cultural landscape continues to shape Worcester's identity into a colorful and vibrant place to live and learn. Worcester is home to 12 area colleges and universities, with more than 38,000 students from around the world.
We're lucky to live right in the middle of a vibrant city — and we can't wait to share it with you!