Reading can broaden your horizons, stir emotions, strengthen your critical thinking, and inspire you to action. A truly meaningful book can even help form your identity and set you on a path to change the world. Despite these benefits, one in four American adults have not read a book in the last year.
Let's reverse this trend in 2019.
As you might imagine, Clark University faculty and staff know how to choose a good read, so we browsed the shelves of their personal libraries for their top picks. These are the books that have shaped their lives and actions.
Interested in borrowing one? All titles below are available through Clark's extensive on-campus library network.
Happy reading!
Long Walk to Freedom by Nelson Mandela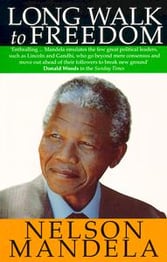 Recommended by: Dave Bell, Professor of Practice, Department of International Development, Community, and Environment.
The autobiography of the first freely elected President of South Africa is chock-full of inspirational quotes…not surprising, since most of the narrative was written secretively by Mandela while he was locked in prison for 27 years. There is much to learn from the life of this celebrated freedom-fighter. One over-arching theme (that we won't argue with) is the importance education has in setting you up for success. Long Walk to Freedom is a call-to-action, a poignant reminder that we must fight for what we believe in. Professor Bell says, "This is a book that has shaped me—and the world—and it continues to do both."
"Education is the great engine of personal development. It is through education that the daughter of a peasant can become a doctor, that the son of a mine worker can become the head of the mine, that a child of farm workers can become the president of a great nation. It is what we make out of what we have, not what we are given, that separates one person from another."

---
The Tantrum that Saved the World by Megan Herbert and Michael E. Mann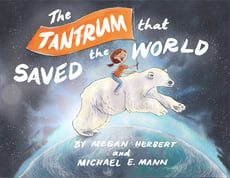 Recommended by: Karen Frey, Associate Professor and Associate Director, Graduate School of Geography.
"I have two daughters, aged 3 and 5, so I spend a lot of time reading children's books these days," explains Professor Frey. This groundbreaking book focuses on educating, energizing, and empowering children to address climate change. The story follows a little girl who channels her frustrations to overcome an obstacle, and inspires others to take action. It outlines simple steps a person (whether aged 5 or 95) can do to make a difference in the world.
"Sophia's strong feelings smoldered once more,
And this time they'd gotten too big to ignore.
Raging with purpose, her banners unfurled,
She kicked off a tantrum to save the whole world!"
---
My Beloved World by Sonia Sotomayor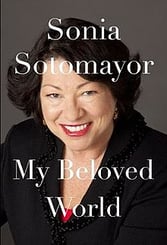 Recommended by: Mary-Ellen Boyle, Associate Professor, Graduate School of Management. Professor Boyle explains that Sotomayor's personal story is one that showcases the importance of hard work and a powerful moral compass.
Sonia Sotomayor climbed her way up from Bronx housing projects as a child to the U.S. Supreme Court. As the first Latina and third woman ever appointed as a Justice, Sotomayor's memoir is a reminder that we can do anything we set our minds to, even if it seems out of reach. "It is sure to inspire all who are interested in making the world a better place, and especially resonant for women and minority groups," Professor Boyle says.
"...you cannot value dreams according to the odds of their coming true. The real value is in stirring within us the will to aspire. That will, wherever it finally leads, does at least move you forward. And after a time you may recognize that the proper measure of success is not how much you've closed the distance to some far-off goal but the quality of what you've done today."

---
Mountains Beyond Mountains by Tracy Kidder
Recommended by: Ed McDermott, Systems Librarian, Goddard Library.
The incredibly inspiring true story of Paul Farmer and his quest to bring basic health care to a poverty stricken area of Haiti. McDermott explains the book's impact: "Paul Farmer's passionate belief in the absolute right of every human to health care, and his tireless efforts, have resulted in the creation of the global health organization Partners In Health."
"The idea that some lives matter less is the root of all that's wrong with the world."

---
Rich Dad, Poor Dad by Robert Kiyosaki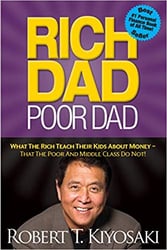 Recommended by Jerry Czub, Director, Graduate Enrollment Management.
Kiyosaki compares the two father figures in his childhood—his real father (the poor one) and his best friend's father (the rich one). He compares what he learned from them about investing, finances, and how to create wealth. This book is testament to the idea that you don't need a lot of money to be rich...and you don't need to be rich to have lots of money. Czub says, "This is a good book for those new to adult life. It tells you how to manage your money and is filled with personal tidbits about how to achieve success."
"In school we learn that mistakes are bad, and we are punished for making them. Yet, if you look at the way humans are designed to learn, we learn by making mistakes. We learn to walk by falling down. If we never fell down, we would never walk."

---
Leadership in Turbulent Times by Doris Kearns Goodwin
Recommended by: Mary Piecewicz, Assistant Dean, School of Professional Studies.
An interesting spin on American history, Goodwin writes a love letter to four remarkable U.S. presidents…a love letter that took five decades of extensive research to pen. Goodwin explores the presidencies of Abraham Lincoln, Theodore Roosevelt, Franklin D. Roosevelt, and Lyndon B. Johnson. All four leaders charted a new course in American history, each decisively taking a stand during a time of national crisis. According to Piecewicz, "This is a great analysis of four U.S. presidents from a leadership perspective. I highly recommend this one!"
""With public sentiment, nothing can fail," Abraham Lincoln said, "without it nothing can succeed." Such a leader is inseparably linked to the people. Such leadership is a mirror in which the people see their collective reflection."

---
Peripheral Visions: Learning along the way by Mary Catherine Bateson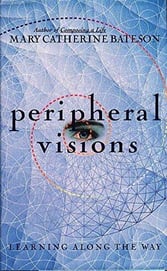 Recommended by: Rachael Shea, Head of Public Services, Goddard Library.
As a cultural anthropologist, Bateson traveled to the far-flung reaches of the globe. She writes about these places in a way that facilitates reflection of our diverse and shifting society, without losing a sense of excitement for our future. Shea explains her selection: "Bateson truly embraces being a life-long learner. She is the consummate teacher, as her desire and willingness to be a student means she is a brilliant bridge." Bateson proves that all it takes is a little courage and a big voice to improve lives.
"What would it be like to have not only color vision but culture vision, the ability to see the multiple worlds of others."

---